The University of Maryland - College Park's program in clinical audiology is one of very few graduate programs in the country that provides opportunities for hands-on clinical training with CI patients in the on-campus clinic.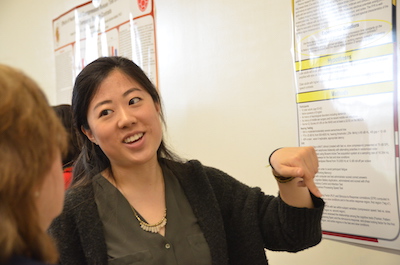 Through our partnership with UMMC, we have incorporated CI services into the clinical training of AuD students in their first year of study. AuD students work in collaboration with an audiologist who is a board-certified specialist in CIs to provide pre- and post-operative clinical services to patients of all ages. While many AuD programs rely on outside placements as the mechanism for this exposure, the UMCP program is able to provide students with a foundation in clinical mapping and assessment that they are able to expand on during their clinical internships.

Through MCICE, students also have the opportunity to obtain a level of education and training in providing services to individuals with CIs that will result in recognition of this specialized training on their graduate transcripts through the Cochlear Implant Emphasis Program (CI-EP). Students pursuing this CI specialty track will have a number of advanced clinical experiences specifically working with CI patients:
They will be paired with students in speech-language pathology to jointly provide audiologic and rehabilitative services for patients with CIs, thus providing interprofessional training in working with individuals with CIs.
They will complete at least one semester-long externship in a setting that provides services to individuals with CIs (such as University of Maryland Medical Center, Walter Reed Military Medical Center, Children's National Hospital, The River School, or the Listening Center at Johns Hopkins).
They will also complete their 4th year clinical externship in a program that includes CI services.
In addition to these clinical experiences, students will be expected to attend the MCICE seminar (a full-day cross-disciplinary seminar & training session), attend the American Cochlear Implant Alliance (ACIA) annual conference, participate in monthly team meetings, and complete a CI-related capstone project and comprehensive exam question.
Learn more about this initiative here!
Last modified
12/05/2019 - 1:29 pm